While investigating a burglary call in Riviera Beach, Florida, police officers saw Avery Davis, 26. Davis matched the description of the suspect and police noticed that he was carrying some packages. Davis also had his dog, a Pitbull, with him. Police ordered Davis to put the packages down, and the confrontation began.
Davis wasn't going to go down easily. He started to run. The police stunned him with a stun gun, but he managed to get away again. Then Davis took the dog off the leash and told the dog to "kill'em boy." The dog was probably a little confused with all the activity and didn't exactly go after the police.
Take a look at this monster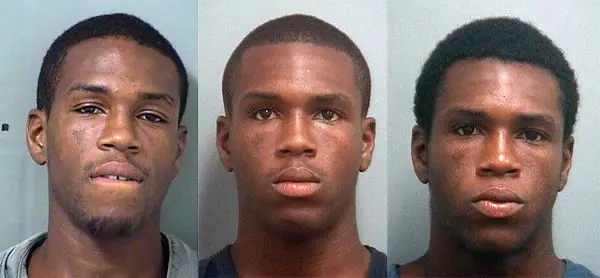 The dog turned on Davis! The dog bit Davis in the buttocks and went for his head too. Davis was found later hiding under an SUV. What a good dog!
"Y'all gonna have to kill us," he yelled, before getting up off the ground and running away.
Davis was hit with a stun gun, causing him to fall to the ground. He then got up and began to run again. He proceed to let his dog go from the leash, point at the officers and instructed the dog to, "Kill'em boy, kill'em."
Instead of attacking the officers, the dog bit Davis. The pit bull bit him on his buttocks and attempted to bite him in the head. Davis then ran to a nearby apartment complex to hide, according to a police report.
Davis was found hiding under an SUV. He was hospitalized before and later released into police custody, the New York Daily News reported.
Davis was charged with two counts of aggravated assault on a law enforcement officer and one count resisting an officer with violence.
Share away, people!